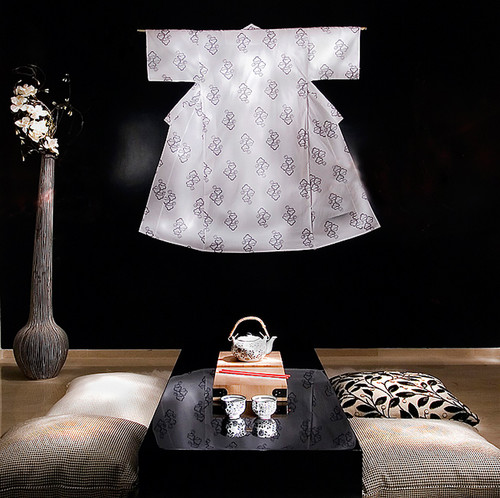 Cherry blossoms & silk screens, dark wood & ikebanas , low furniture & nature inspired accents ... all scream a design style that's so inspired by the beautiful South East Asian countries. I love the whole calming & relaxing effect it brings in to the space. A wonderful combination of predominantly Chinese & Japanese design culture and a bit of Thai & Indonesian accents thrown in to the mix, you have what's commonly called the "Asian Design Style " .
The traditional Chinese & Thai style as I see it, is energizing & all about details : intricate details in furniture & woodwork , gorgeous silk fabrics in jewel toned colors. The Japanese design on the other hand is tranquil & "restrained" : with accents & color palettes inspired by nature. This traditional Asian design style though has very well been adapted into today's lifestyle.
So here's my take :
By simplifying the details and not compromising on its inherent design,
the Asian design style
fits into todays popular & modern condo / apartment living pretty well .
Here are the 5 key features that I think are essential & easy enough to
incorporate the Asian flair into your design & decor
:
1) The Style
Influenced by the Japanese style, having open & simple spaces bring in the "relaxing" element into your space. Mostly leaning to minimalistic design style, incorporating minimal low-height furniture & heavy impact accents are the way to go.
2) Fabrics & Textures
This element plays a huge role in bringing in the Asian style in. Woven tatami mats , gorgeous silk screens
, Shoji screens, embroidered fabrics like tapestry & rugs with traditional motifs like the cherry blossom or a dragon are classic touches to have in your decor.
3) Materials
Both the Chinese & the Japanese style are big on design elements ( like feature walls, counter-tops etc. ) made of natural materials like wood & stone. Paper lanterns, Tansu cabinets , accents with lacquer & gilt finishes are an easy way to bring in a piece of the orient home.
4) Colors
The modern take on the traditional Asian style colors is when rich jewel tones & passionate hues that energize you are used in a much more restrained manner ( only on a feature wall or by toning down the color itself ). The Japanese style has nature inspired color palette already perfect for todays home.
5) Accents & Accessories
Accessories play a huge part in the Asian design style. Traditional accents have heavy ornamentation. Such accents are now 'refined' to fit in perfectly with the modern style. Few of the key accents are a
Buddha,
simple & sleek paper lanterns, Ikebana style plants & flowers, Bamboo prints & simple lacquered accents.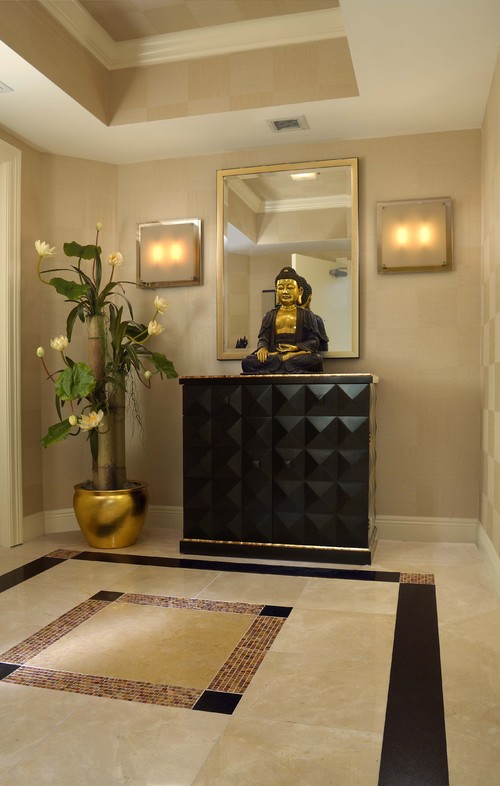 What really amazes me is that the opulent Chinese style & the minimalist Japanese style come together beautifully to
infuse your home with an Asian elegance. Add a touch of Zen with Asian inspired decor to bring in peace & tranquility into your home.